Saturday 27th July – WBGC Ladies Open
The 2019 WBGC  Ladies 15 Hole Stableford Open was played on Saturday 27th July. Most of us were very lucky with the weather but later golfers got rather wet!  We were delighted to have a field of 44 ladies and appreciate the support of country members, visitors and other island lady golfers.
Brenda Rankin was leading the scoreboard for most of the day with an excellent 33 points but the last and wettest player, Elizabeth Kelso matched her score and had the better inward half, so took the trophy. Proving to us fair-weather golfers that rain is no barrier to good golf!! Congratulations to Elizabeth and all the winners.
1st  Elizabeth Kelso (21) – 33 acb,
2nd Brenda Rankin (36) – 33,
3rd Isobel McDonald(20) – 31,
4th Lynda Blair (23) – 30 acb
Hole Prizes 
1 Susan Butchard, 2 Ellie Adair, 3 Ruth Hardy, 4 Lesley Wood, 5 Lynda Blair, 6 Elizabeth Kelso, 7 Joyce Wells, 11Jenni Turnbull, 12 Elizabeth Kelso, 13 Ellie Adair, 14 Ann May, 15 Susan Butchard, 16 Morag Cruickshank, 17 Anne McVicar, 18 Susan Butchard.  
Most effort Margaret McCulloch Magic 2s, Margaret Auld (4), Ann May (4)
Lucky Dip, Fran Hadden
There are lots of people to thank:-  Stewart and Osborne Solicitors who once again,  for the umpteenth year,  gave us a very generous donation: Doreen Mainds of the Tartan Tablet Company who was unable to play,  but donated lots of her delicious tablet which was very much appreciated and enjoyed!: Everybody including businesses who kindly donated  hole  prizes and raffle prizes.   We are so lucky to have such generous members and supporters.
The course is in fantastic condition thanks to the hard work of Stuart and Corrie so thank you very much to them.
Thanks also to John, Nancy, Corey, Jenni and Jamie behind the bar who worked so hard all day keeping us fed and suitably hydrated!!  and have helped in so many other ways. Nothing is ever too much trouble.
Thanks to  Christine and Doug for painting the boards yet again, to David and Fraser who very kindly laid out the markers on the course, to Mary in the starters box. (where else would you get such a cheery welcome?), Howard for growing plants to decorate the clubhouse and the Shiskine Ladies for bringing in the boards.
Thanks also to the dream team of Jean, Margaret, Tricia and  Lynda. Without them the Open would not happen.
Finally thanks to everyone who participated. We raised over £800 for the club. See you next year!!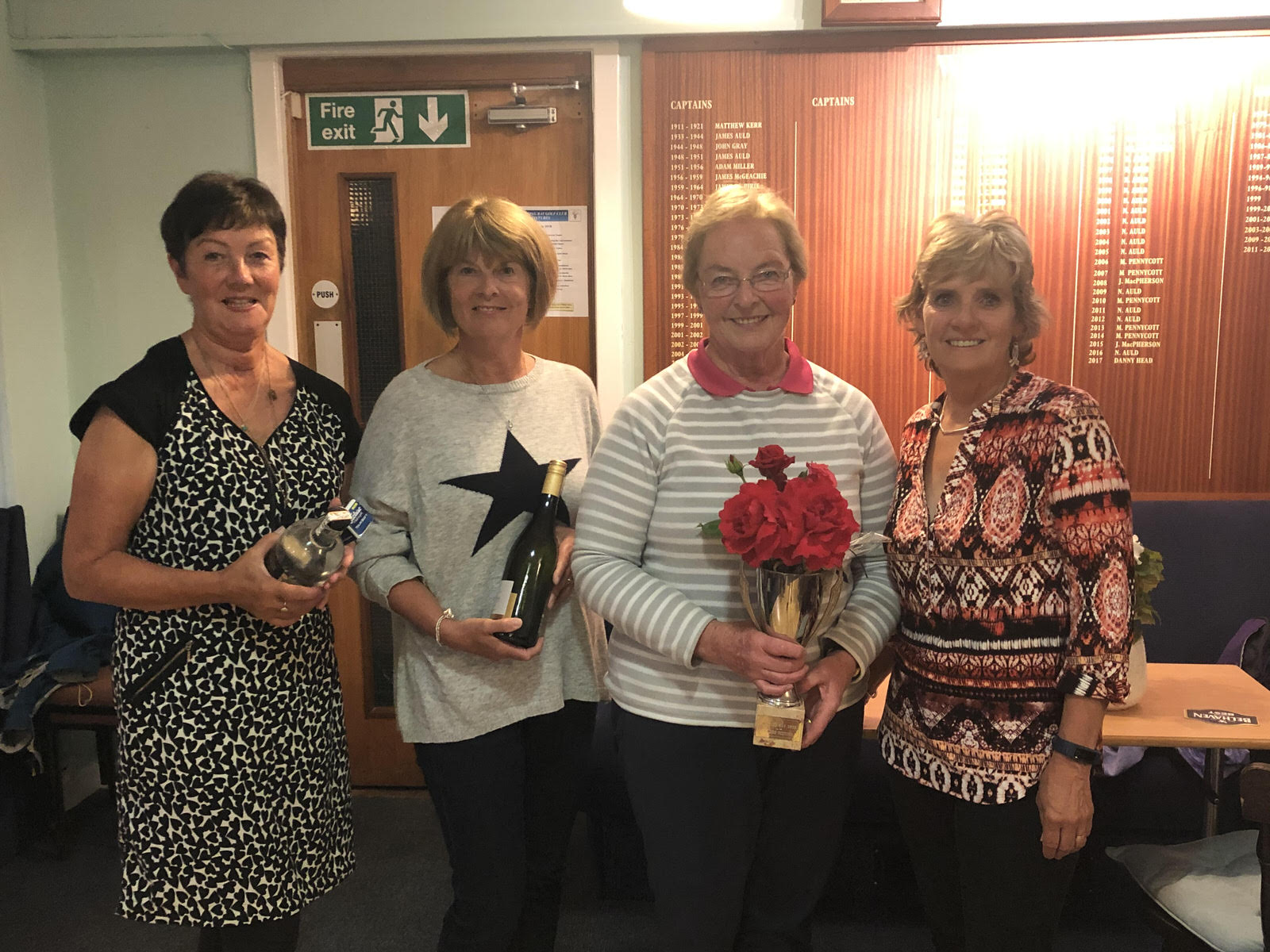 Here are Lynda Blair, Brenda Rankin and winner Elizebeth Kelso with organiser Lesley Wood